Welcome to Cringleford Village
Village Diary
Thursday 9th April 2015
Parish Council Meeting
Venue
: Willow Centre, Roundhouse Park
Time : 7 p.m.
Details : All Parishioners are invited and may ask questions or raise matters before the start of the meeting.
Wednesday 22nd April 2015
Absolute Beginners IT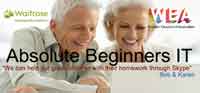 Venue
The training room at Waitrose
Time : 1 p.m.
Details Click HERE for full details
Saturday 2nd May 2015
Brass Band Concert
Venue
: Willow Centre, Roundhouse Park
Time : 7.30 p.m.
Tickets : Are available from enquiries@cityofnorwichbrass.co.uk or phone 01603 673116
Details: All are invited to attend the inaugural concert of the City of Norwich Brass Band. The programme includes an eclectic mix of traditional marches, film music, ballads and easy listening.
Tuesday 12th May 2015
Cake & Coffee Morning at Cavell Court
Venue
: Cavell Court, 140 Dragonfly Lane, Cringleford, NR4 7SW
Time: 10.00 a.m. to 12 noon
Details : A coffee morning to raise money for the Cavell Nurses Trust and also an opportunity to visit the new Care UK care home which will open this summer.
Thursday 14th May 2015
Parish Council Meeting
Venue
: Willow Centre, Roundhouse Park
Time : 7 p.m.
Details : All Parishioners are invited and may ask questions or raise matters before the start of the meeting.
Friday 15th May 2015
Cringleford School Reunion
Venue
: Red Lion Eaton
Time : 11.00 a.m.
Details : All Cringleford School pupils from the 1950s and 1960s are invited along to our regular reunion. Please contact Gillian Gooch, 483732, or Chris Wright, 01778 425935, for more information.
Saturday 16th May 2015
Horticultural Society Plant Sale
Venue
: Recreation Ground, Oakfields Road, Cringleford
Time : 9 a.m.
Details : Come along and buy some bargains for your gardens
Saturday 16th May 2015
Cringleford School Suumer Fete
Venue
: Cringleford School Grounds
Time : 911 a.m. to 2.30 p.m.
Entry Cost: 50p for adults, children free
Details: COme and enjoy our traditional fete. Attractions include: games, bouncy castle, tombola, refreshments and entertainment.
We aim to keep this home page regularly updated with information on Cringleford amenities, sports and social clubs with details of local events and activities. Please help by keeping us informed of Village events
For diary of events at The Willow Centre click HERE
Village News.
Parish Magazine:. The 40-page full-colour publication, 'Cingleford & Colney Life', is packed with articles and information.One year's subscription, which buys four quarterly copies, is only £5. To subscribe contact Juliet Godier: church.cringleford@tiscali.co.uk , 01603 259138
To view previous copies of the magazine click HERE or the front page image left
New Community Cafe
Our new community cafe at the Willow Centre is now open. For full information visit the Community Hub website: http://cringlefordhub.co.uk/
Cringleford Scouts'Paper waste paper collections come to an end: Sadly, after 20 years, over which time they have collected more than 1000 tons of waste paper and earned around £35,000 the Scouts decided to make the February collection their last. Reduced levels of donations coupled with difficulties of collection are making this a less viable option than other fundraising efforts. Howvere, Scout Leader, Mike Younger, has asked us to pass on his gratitude to all who have supported the collections, which in the past has financed the basic running costs of the Scouts HQ and helped them survive through tough fund-raising times.
The History of Cringleford School:
In two fascinating books, Pat Wagsatff, interweaves archives, personal memories, anecdotes and photographs to tell the story of Cringleford School. Priced at £7 they are available from: Cringleford Stores in Intwood Road OR from Pat Wagstaff, tel: 1603 505795; email: pa_wagstaff@yahoo.co.uk
Join the Cringleford Lottery and raise funds for Cringleford Church Hall
Would you like 14 chances a year to win a prize in a draw with far better odds than the National Lottery and at the same time help renovate a valuable community asset? If the answer is yes, visit: ENTERPRISE CLUB
Do you Have any unwanted good-quality baby and toddler toys?
If you do, 'Cringletots' (Cringleford's parent/minder & toddler group) would really appreciate donations. Their little people particularly enjoy puzzles and books, but anything that will stimulate young minds and keep little fingers busy would be appreciated. For more information please contact Heather Cracknell: tel 01603 501364 email: heather.cracknell@gmail.com
BUS timetable