Welcome to Cringleford Village
Village Diary
Saturday 5th April 2014
Scouts' Paper & Card Collection
Time
: Between 9.00 a.m. and 12.00 noon
When: First Saturday of each month, with the exception of August and January
Why: Your paper equals money for the village children, which enables them to take part in numerous activities
Thursday 10th April 2014
Parish Council Meeting
Venue
: Willow Centre, Roundhouse Park
Time : 7 p.m.
Details : All Parishioners are invited and may ask questions or raise matters before the start of the meeting.
Saturday 3rd May 2014
Scouts' Paper & Card Collection
Time
: Between 9.00 a.m. and 12.00 noon
When: First Saturday of each month, with the exception of August and January
Why: Your paper equals money for the village children, which enables them to take part in numerous activities
Thursday 8th May 2014
Parish Council Meeting
Venue
: Willow Centre, Roundhouse Park
Time : 7 p.m.
Details : All Parishioners are invited and may ask questions or raise matters before the start of the meeting.
Saturday 17th May 2014
Plant Sale
Venue
: Cringleford Recreation Ground, Oakfields Road
Time : 9.00 a.m.
Details : If you are looking for new plants come and visit Cringleford Horticultural Society at their Annual Plant Sale.
Sunday 18th May 2014
Village Garage Sale
Fundraiser organised by Cringleford School PTA
Venue
: Garages across Cringleford plus 'Textile Collection Point' and 'Car Boot and Table Top Sale' at Cringleford School, Dragonfly Lane
Details : Contact cringlefordpta@hotmail.co.uk
Wednesday 28th May 2014
Coffee Morning - Bring & Buy Sale
Fundraiser organised by the Friends of Cringleford Surgery
Venue
: Cringleford Pavilion
Time
: 10.00 a.m. to 12.00 noon
Details: Stalls include home baking. Admission £1 - includes coffee. Contact Christine, 01603 505143
We aim to keep this home page regularly updated with information on Cringleford amenities, sports and social clubs with details of local events and activities. Please help by keeping us informed of Village events
Village News.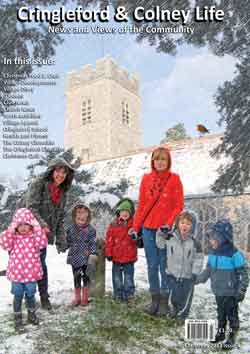 Parish Magazine:. The 40-page full-colour publication, 'Cingleford & Colney Life', is packed with articles and information.One year's subscription, which buys four quarterly copies, is only £5. To subscribe contact Juliet Godier: church.cringleford@tiscali.co.uk , 01603 259138
To view previous copies of the magazine click HERE or the front page image left
The History of Cringleford School: This fascinating book, by Pat Wagsatff, interweaves archives, personal memories, anecdotes and photographs to tell the story of Cringleford School from 1948 to 2013. Priced at £7 it is available from: Cringleford Stores in Intwood Road OR from Pat Wagstaff, tel: 1603 505795; email: pa_wagstaff@yahoo.co.uk
1st Cringleford Brownies Group needs volunteers 1st Cringleford Brownies is currently full and has a large waiting list; therefore we are looking for new volunteers. We are particularly interested in opening a second unit in Cringleford to ensure that every girl on the waiting list will get the opportunity to become a brownie. If you think that volunteering with girl guiding is for you (either as a regular helper or as an occasional helper) please email 1stcringlefordbrownies@gmail.com or call Vicky on 07791755389.
Making New Connections : The Cringleford Hub
For an update on the Cringleford Hub - including news on the new community cafe visit: http://cringlefordhub.co.uk/
New Lottery Launched to raise funds for Cringleford Church Hall
Would you like 14 chances a year to win a prize in a draw with far better odds than the National Lottery and at the same time help renovate a valuable community asset? If the answer is yes, click here.
Do you Have any unwanted good-quality baby and toddler toys?
If you do, 'Cringletots' (Cringleford's parent/minder & toddler group) would really appreciate donations. Their little people particularly enjoy puzzles and books, but anything that will stimulate young minds and keep little fingers busy would be appreciated. For more information please contact Heather Cracknell: tel 01603 501364 email: heather.cracknell@gmail.com
BUS timetable